---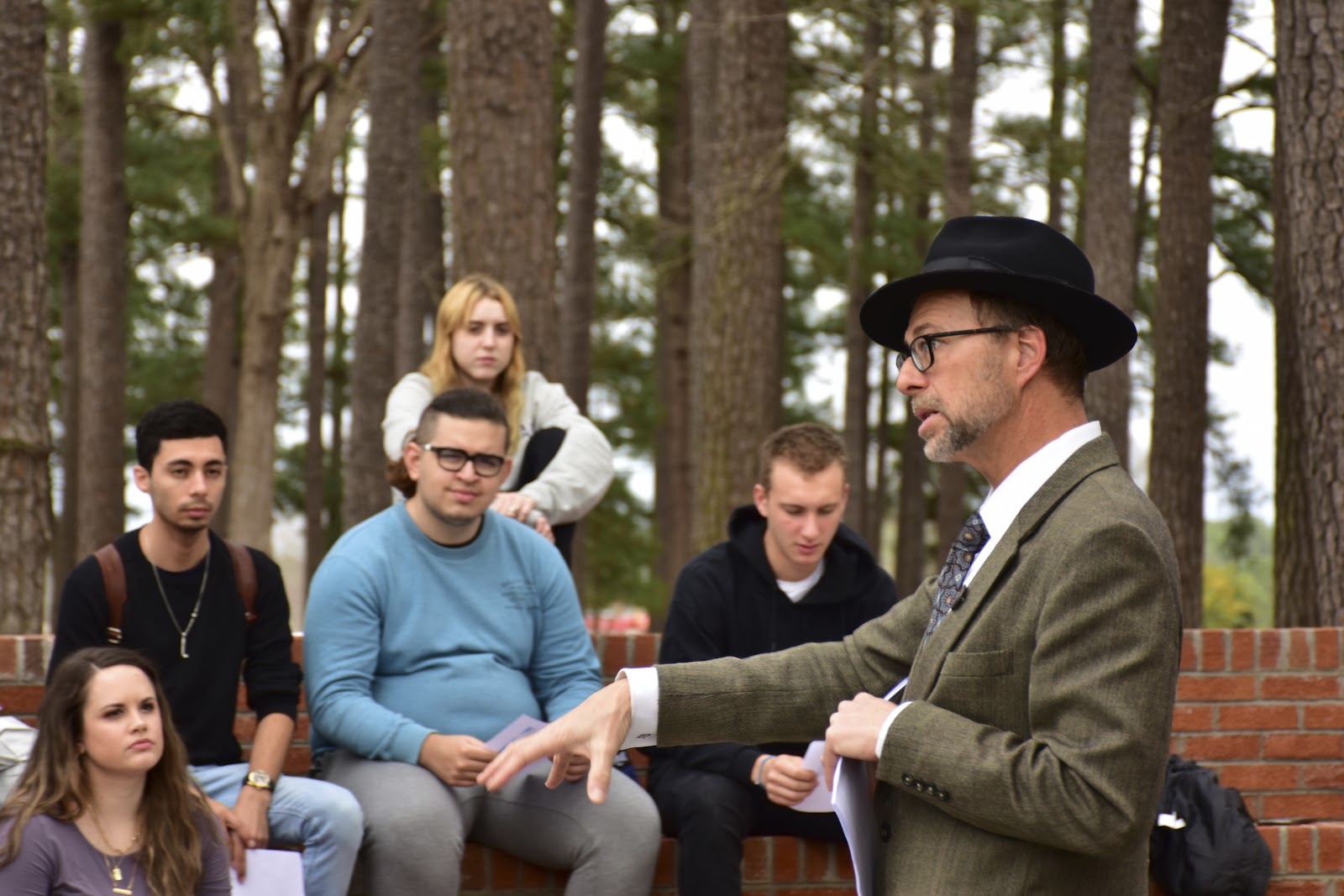 The fundamental goal of the Division of Student Affairs is to support and enhance the University's educational mission. The Student Affairs staff seeks to provide a living and learning environment that inspires personal growth, promotes social awareness and challenges students while supporting them in achieving their full potential as individuals, members of the Wesleyan family and citizens of a global community.
International Student Services
International Student Services (ISS) provides a broad range of support services and programming for international students from the time they are admitted until they graduate and beyond. ISS collaborates with other departments on campus to best assist our international students in academic and cultural adjustments. ISS staff serve as Designated School Officials for the Student and Exchange Visitor Program and U.S. Citizenship and Immigration Services.
Immigration Services: ISS staff serve as Principal Designated School Officials (PDSO) and Designated School Officials (DSO) for the Student and Exchange Visitor Program (SEVP). ISS staff members provide guidance and advising to F-1 nonimmigrant students on status and regulations, including but not limited to, Curriculum Practical Training, travel, Optional Practical Training and university policies. The DSO's are responsible for all communication with government agencies involving the SEVP program, CBP, USCIS, and Homeland Security and monitors each student's status. Maintaining status is the student's responsibility, but ISS assists with guidance on how to best support this for them.
International Student Programming: ISS offers a variety of programs to assist international students in feeling "at home" on campus and in the Rocky Mount community. New international students receive extended first year experience programming that includes a "World Wide Welcome" orientation program, as well as an international student peer mentor known as a "World Wide Welcome Leader." Through campus and community partnerships, new international students are connected in the first week to local services for banking needs and immunizations, if necessary. All incoming new international students arriving in the fall or spring semesters have communication with our Coordinator concerning flight information and next steps when they arrive to campus. ISS provides assistance with official documents, obtaining a North Carolina driver's license and a social security card. ISS offers my opportunities for students to engage in cross cultural exchanges with local businesses and organizations, K - 12 schools, services projects, and campus volunteers through coordinated events and activities offered exclusively for international students in coorporation with the Office of Student Activities. Area churches provide support and volunteers for many of the ISS events and activities, and students establish meaningful relationships with families in the Rocky Mount area through this connection. The department of ISS and the Bishop community provide our international students with a true home away from home, Bishop family experience.
Health Services
The Health Center employs a full-time general medicine Physician Assistant (P.A.) who provides sick and well visits, sports physicals, basic first aid and appropriate prescriptions on campus. The Physician Assistant also works with a local medical facilities to provide laboratory and X-ray services to our students. Services provided by the P.A. on campus are free of charge to students. Students who need medical care after hours may contact the Residence Life staff member on duty at 252.813.1230 or Security at 252.406.7928. For medical emergencies, call 9-1-1.
The Health Center maintains all student medical records. The State of North Carolina requires that all students entering college provide a record of immunizations including documentation of three DPT (diphtheria, pertussis and tetanus) injections, one tetanus booster (administered within the last 10 years), three Hepatitis B shots, two MMR (measles, mumps and rubella), three Polio vaccines, and one Varicella vaccine. A PPD or BCG is required for international students, as well. North Carolina State dictates that medical requirements must be completed prior to starting classes. If the required documentation is not provided within 30 days from the start of classes, the student will be suspended until the medical requirements are met. Questions about medical records should be directed to the Director of Health Services at 252.985.5186.
The University requires all full-time day students taking 12 or more credit hours to have medical insurance that has coverage in the Rocky Mount area. All students will be automatically enrolled in a medical insurance policy that meets certain requirements. The cost for this policy will be included in the student's fees. Students may waive out of this policy if they are covered by a suitable medical insurance policy. To waive out of the University policy, the student must complete a waiver and be approved by the insurer to ensure the validity and appropriateness of the existing policy. This waiver must be completed each semester in which the student is enrolled, and waivers must be submitted by an established deadline. Any additional medical cost not covered by the student's insurance is the responsibility of the student or the student's legal guardian. The University provides accident coverage (up to $5,000) to all full-time day students.
Food Services (Hardee's Building)
The University requires all resident students to participate in a meal plan, which is provided by Sodexo Campus Services. Commuter students, faculty, staff and visitors to the campus are welcome to eat meals in the Cafeteria on a cash basis. A Block Plan and Flex Dollars are also available for commuters, faculty and staff. These plans offer discounted prices and are available at any dining service cashier or cafeteria office. Three meals a day are served Monday through Friday, with brunch and dinner being served on Saturday and Sunday.
University Store (Hardee's Building)
The University Store is open 9:00 a.m. to 4:00 p.m. Monday through Friday. Additional hours of operation are scheduled during registration, first week of classes, special events, weekends and final exam week. These additional hours of operation, as well as any changes in the normal hours of operation, are posted in advance at the entrance to the University Store.
The University Store provides the items needed for a student's academic program - textbooks, study guides, resource materials and general supplies. Personal-need supplies and emblematic items are also available. Refund policies are posted throughout the store.
Textbooks are currently on a rental system for traditional full-time students and must be returned to the university store during exam week. Textbooks not returned will be billed to the student's account. Traditional part-time students and Adult Studies students must pay for book out of pocket.
Class rings, graduation announcements and robes may be ordered from the University Store. The University Store accepts MasterCard, Visa, Discover and American Express.
Post Office (Hardee's Building)
The campus mail service is operated on a contract basis with the United States Postal Service and is subject to its rules and regulations. Incoming mail is distributed to assigned boxes located in the lobby of each residence hall. Window hours are posted and a drop box is located outside the Hardee's Building.
All resident students are assigned a campus post office box. Post office box keys are given to students during residence hall check-in. There is a $15 charge for replacement of lost keys. Students should be conscientious in routinely checking their boxes for mail.
Campus organizations must contact the Office of Student Affairs and/ or the University Store for permission to use the postal service for distribution of information.
Cashier Services
Students may cash personal checks up to $100 (per week). Checks with second endorsement will not be accepted. There is a $35 charge for checks returned due to insufficient funds. A second returned check will result in another $35 charge and the loss of check-cashing privileges.
Student and organizational accounts may be established and funds deposited and withdrawn at Cashier Services. Interest is not paid on deposited funds.
Identification Cards
All students are issued an official North Carolina Wesleyan identification card (ID). In addition to identifying the student, this card is used to access the campus dining program, the Taylor Recreation center, and Taylor residence hall for students assigned to that hall. The ID is also needed to cash checks on campus, pick up packages at the post office and to access all campus copiers. Students are required to carry their ID at all times while on campus and are required to produce the card if requested by a University official. For safety and security purposes, lost ID cards must be reported to the Campus Security Office immediately to obtain a replacement card for a fee. Dining Services is not responsible for Flex Dollars balances on lost cards. The ID card should remain in the possession of the student to whom it is issued and may not be used by anyone else.
University Security
The Vice-President of Adminstration, his/her designee, the Director of Safety and the Security officers are responsible for the enforcement of campus policies, traffic regulations and emergency assistance. University Security works closely with outside law enforcement agencies and contacts them for assistance when necessary.
Although every effort is made to ensure campus safety, students have a major responsibility to use good judgment in their actions and to report immediately all suspicious and emergency situations to University Security or residence hall staff. Upon request, Security personnel will provide after-dark escort service for students walking to and from campus facilities.
Lost or stolen items should be reported immediately to Security staff. While the University takes all possible precautions to help residents protect their possessions, the University does not assume responsibility for items that are lost, stolen or damaged. Students are advised to determine if their possessions are covered by parents' home owner's insurance or, if needed, invest in adequate personal property insurance.
Responsibility for Accidents
The University assumes no responsibility or liability for accidents or injuries incurred by anyone on University property. A particular area where caution should be used is the water fountain at the front entrance of the campus. Damage to the electrical wiring in and around the fountain could cause serious injury. The sharp edges of the water jets inside the fountain could also be a source of injury.
Residence Life
Residential living is an important part of the overall educational experience at North Carolina Wesleyan University. The Residence Life staff strives to provide a quality residential environment conducive to living and learning. Active participation in hall activities allows students to become more aware and respectful of the rights and responsibilities of community living and contributes to student growth and citizenship.
The Residence Life program is part of the Student Affairs Office and is coordinated by the Dean of Students. The Dean directly supervises the Director of Residence life. Together, the Dean and Director provide leadership to the Residence Life department and serve to ensure the safe and efficient operation of the residence halls. The Dean of Students and Director of Residence Life have offices within the Student Affairs Office (Suite 111) in the Hardee's Student Union, which is open Monday through Friday from 8:00 a.m. to 5:00 p.m.
Residence Halls
The University has eight residence halls on campus and an off-campus townhome community. Petteway, Collins, Roberson and Pash Halls house approximately 120 students each in double rooms. Boddie, Jin, Bradley and Taylor Halls house approximately 40 students each in single rooms. The Villas at Wesleyan house 80 students in a combination of single and double rooms. All residence halls are drug, alcohol and tobacco free. In an effort to provide a safe environment for all students, the university maintains the right to search the student's room and its contents, as well as any vehicle a student brings to campus for health and safety violations, including violations of the Student Code of Conduct.
Additional information regarding residence life may be found in the Student Handbook.
Counseling Services
The Counseling Center provides students with a safe, confidential and supportive environment in which to discuss life concerns, challenges and opportunities. Our professional mental health counselor assists students seeking help with transitioning to college, coping with college life, fear of failure, feelings of loneliness, anxiety, depression, academic concerns and many other areas. The counseling process is about problem solving, expanding awareness and developing coping skills which leads to personal growth. One does not need to be in crisis to benefit from counseling services. To schedule a Counseling appointment, go to the university website, click on Campus Life. From the drop down menu, select Student Resources. Click on Health Services, then scroll down to Counseling and Accessibility Services and click on the Request Counseling Appointment. For after-hours emergencies, please contact Security at 252.977.7374 or an on-duty Residence Life Staff Member. In the event of a true medical emergency, dial 9-1-1 or visit the nearest emergency room.
Accessibility Services
The Accessibility Services Office provides qualified students with equal access opportunities, including the establishment and coordination of academic accommodations and auxiliary aids and programs in accordance with Section 504 of the Rehabilitation Act of 1973 and Americans with Disabilities Act of 1990. Accessibility Services exercises a reasonable good faith effort to coordinate accommodations to enable students with disabilities to maximize their educational potential. Policies related to Accessibility Services can be found at ncwc.edu/bishop-life/resources/health-services. To schedule a Accessibility Services appointment, email the Accessibility Services Coordinator at accessibility@ncwc.edu.
Campus Life
North Carolina Wesleyan University strives for the holistic growth and development of each student. Much of that growth occurs in social, religious, cultural, and physical activities, along with leadership opportunities and programs. Student engagement in co-curricular and extra-curricular activities provides many benefits, including peer connection, recreation, skill development, leadership training and wellness. Students are encouraged to become actively engaged in all aspects of campus life.
Intramural Sports and Recreation
The Department of Intramural Sports and Recreation provides recreational and wellness programs for North Carolina Wesleyan University students, faculty, staff and alumni (membership fee required for alumni) that are dedicated to enhancing the quality of life of the University community. The department is committed to imparting a sense of citizenship to all participants, offering leadership opportunities for students and fostering life skills essential in building physical, social, emotional and mental well-being. Program areas include intramural sports, fitness and wellness, outdoor adventure and club sports. In addition, student employment opportunities are available as facility supervisors, customer service representatives, sports officials, activity supervisors and scorekeepers. Intramural activities are based upon student interest and include basketball (4-on-4 and 5-on-5), flag football (7-on7 and 4-on-4), volleyball (indoor and sand), soccer (indoor), dodgeball, billiards, table tennis and video games. Fitness and Wellness provides a variety of group fitness classes, fitness incentive programs and nutrition/wellness workshops. Outdoor Adventure collaborates with local agencies to contract various trips for activities such as canoeing, sea kayaking and rock climbing. Club Sports are registered student organizations formed by individuals with a common interest in a sport or activity. The Taylor Center is the on-campus health club and primary location for all recreational experiences at the University. The facility houses both free and machine weights as well as cardio equipment. The facility also includes a gymnasium used for various department and campus-wide activities including intramurals, group fitness classes, drop-in basketball, volleyball and special events.
Student Government
The Student Government Association (SGA) serves as the representative voice of the students. All students, by virtue of enrollment at North Carolina Wesleyan University, are members of the SGA. Every student is encouraged to become active in student government through election participation, meeting attendance and committee involvement. Students are also encouraged to submit ideas and concerns to their elected representatives. SGA serves to address student concerns, allocate student activity fees and supervise the SGA's various committees. Officers of the SGA are elected by the students each year to conduct student government business. The SGA office is located on the second floor of the Hartness Student Center. The Student Activity Coordinator serves as the SGA advisor. The Advisor and President may be reached at SGA@ncwc.edu.
Student Organizations
Student organizations provide an opportunity for students to get engaged in campus life and connect with other students who have similar interests. These organizations represent academic, co-curricular, and extra-curricular interests. Additionally, they provide opportunities for personal and professional development and community service. Many of these organizations receive funds from the Student Government Association that allows them to conduct programming throughout the year. Organizations are also able to conduct fundraisers with approval from the Director of Student Activities. If students have interests which are not represented in current organization offerings, they are encouraged to start a club by contacting the Office of Student Activities. A complete listing of current student organizations may be found in the Student Handbook. The university hosts Rock the Mount After Shock in the fall semester. At this event, students have an opportunity to explore current organizations and speak with members about the organization.
Student Entertainment & Activites Team
The Student Entertainment & Activities Team (SEAT) is comprised of students who select, plan and implement activities and entertainment with a goal of providing fellowship and fostering a spirit of community. The SEAT works in conjunction with the Director of Student Activities to provide activities and entertainment such as comedians, coffeehouse performers, novelty acts, bands, trips, dances, homecoming week, spring fling week and much more. Programming includes social, physical, and intellectual dimensions. All students are encouraged to play an active role in campus entertainment. Participation on the SEAT is a great way to meet other students and learn transferable leadership and management skills.
Greek Life
North Carolina Wesleyan University seeks to provide the university community with a positive, safe, and vibrant Greek Life on campus. Greeks participate in various charitable efforts across the community, offer free tutoring sessions, and provide social events for the campus community. North Carolina Wesleyan University has three recognized Greek-affiliated chapters: Alpha Kappa Alpha (Tau Gamma Chapter) Sorority, Alpha Phi Alpha (Omicron Beta Chapter) Fraternity and Delta Phi Epsilon (Gamma Pi Chapter) Sorority. For a list of current Greeks on campus, contact the Student Activities Coordinator who oversees Greek Life at 252.985.5288.
Community Engagement
The university's community engagement program, aims to raise awareness of community needs and inspire others to become active leaders in working toward solutions on campus, in the Rocky Mount area, and in students' local communities. Projects include the annual Martin Luther King, Jr. Day of Service, blood drives, Habitat for Humanity, Relay for Life, American Red Cross fundraising, and supporting relief efforts for natural disasters in the U.S. and abroad. Students and other members of the campus community are encouraged to bring their ideas for these and other service projects to the Director of Student Activities. Organizations and athletic teams are also encouraged to engage in community service.
Academic and Professional Organizations
North Carolina Association of Educators This student chapter offers programs for prospective teachers. Students attend workshops, conferences and the annual state convention. Ongoing projects include a literacy campaign for area children, a community project in cooperation with the National Association for the Education of Young Children and an assistance program for needy families. All education majors are encouraged to join.
Health and Movement Science Club The Health and Movement Science Club is open to all Exercise Science and Health Promotion majors, and those interested in Exercise Science or Health Promotion as a major field of study. The club is designed to enhance students' professional development, while also contributing to the promotion of physical activity, exercise, and the impact of physical activity and exercise on health on campus and in the community. The Club organizes several events on campus each year, designed to promote physical activity and wellness; is highly involved in the world-wide Exercise is Medicine on Campus initiative; and typically sends select students from the Health and Movement Science Club to the Southeast regional American College of Sports Medicine conference every year.
Impact - Wesleyan Business Society Wesleyan Business Society is a career development focused society for Business School majors and minors that promotes practical education and application of business concepts through a business-style application process. The intention of this society is to stimulate group learning, ideation, networking, and collaboration. The society incorporates guest speakers from the field of business, group discussion, networking and collaboration meetings, and projects designed to improve and prepare the individual for the business field. This is a high-engagement and commitment society with immense personal advancement potential. In short, this society is
Psychology Club This club encourages discussion outside of the classroom among its members. Members are able to explore the basic areas of psychology as they prepare for professional careers or graduate school. These co-curricular activities complement the classroom setting.
Science Club This club is open to anyone interested in science (e.g. biology, medicine, environmental issues, chemistry, toxicology, etc.). Both science majors and non-majors are welcome. Outings and presentations from outside speakers occur on a regular basis; all activities and projects are dedicated by members of the organization.
Honorary Societies
ALPHA PHI SIGMA The National Criminal Justice Honor Society has a chapter at North Carolina Wesleyan University, Alpha Epsilon Omega open to undergraduate and graduate students. Membership requirements include several academic and participation achievements. Baccalaureate students who have declared a major or minor in criminal justice, have a minimum GPA of 3.2 on a 4.0 scale, and rank in the top 35% of their class are eligible for membership. Masters students in criminal justice who have a minimum GPA of 3.4 on a 4.0 scale are eligible for membership.
ALPHA PSI OMEGA This is the National Theatre Honor Society, to which a student may be nominated after he or she has met the requirements for membership. Requirements include at least two semesters of theatre work, points for active participation in theatre production in a variety of areas and a GPA of 2.5 or better. Nominations and the initiation ceremony routinely precede a banquet in late spring.
ALPHA SIGMA LAMBDA North Carolina Wesleyan University has a charter with Alpha Sigma Lambda honor society under the chapter Nu Zeta Sigma. Alpha Sigma Lambda honor society is for adult learners in higher education. At the December and May graduations we will hold an induction ceremony for those selected to join the honor society. August graduates will be included in the December selection. Selection criteria are as follows:
Students must have earned a minimum of 50 semester hours with North Carolina Wesleyan University.
Students must have completed 12 or more credits in the liberal arts/sciences. (This is completed through general education classes.)
Top 20% of the graduating class
GPA of 3.5 or higher
KAPPA MU EPSILON is a national mathematics honor society. The society was founded to promote the interest of mathematics among undergraduate students. Regularly enrolled students who have completed at least three semesters of university work, completed at least three college-level courses in mathematics including at least one semester of calculus and attained a grade point average of "B" or better in all mathematics courses are eligible for membership.
OMICRON DELTA KAPPA is the National Leadership Honor Society. It is composed of outstanding young men and women who have excelled academically and participated significantly in co-curricular activities. New members are selected from the junior and senior classes by the current ODK members.
PHI ETA SIGMA is a national collegiate scholastic honor society for freshmen. Its goal is to encourage and reward high scholastic achievement.
PI GAMMA MU is the International Honor Society for the Social Sciences. The society taps upperclassmen and alumni who have completed at least 20 semester hours in the social sciences with a minimum grade of "B" and who rank in the upper-third of their class.
PSI CHI is the International Honor Society for Psychology. Psychology majors and minors who have completed at least nine hours of Psychology courses at Wesleyan, rank in the top 35% of their class, have an overall GPA of 3.0 and a 3.25 in Psychology are eligible for membership.
SIGMA BETA DELTA is an international honor society for students in Business, Management and Administration. Its purpose is to encourage and recognize scholarship and achievement and to encourage and promote personal improvement and a life distinguished by honorable service. To be eligible for membership, a business student must rank in the upper 20% of his or her class and be invited to membership by the faculty officers.
SIGMA TAU DELTA is the International English Honors Society. A member of the Association of College Honor Societies, it was founded in 1924 at Dakota Wesleyan University. Sigma Tau Delta confers distinction for high achievement in English language and literature in undergraduate, graduate and professional studies. The society promotes exemplary character and good fellowship, exhibits high standards of academic excellence and encourages literacy. There are over 675 chapters located in Europe, the Caribbean and the United States.
Music Organizations
GOSPEL CHOIR VOICES OF TRIUMPH brings together talented students who love to sing gospel music. This organization performs at University functions, as well as at local churches. They have quickly become a local favorite.
THE PEP BAND is a group of students, staff and faculty interested in musical performance. The ensemble plays at athletic events, other on-campus events and selected events in the community. The Pep Band consists of woodwind, brass, percussion, keyboard and guitar instruments. Academic course credit is available to students who participate in the Pep Band and register for the appropriate course.
THE WESLEYAN SINGERS is a choral ensemble open to all students with an interest in vocal performance. The group's repertoire includes a variety of material from various eras. Academic course credit is available for Wesleyan students who register for the appropriate course.
Wesleyan Theatre
The North Carolina Wesleyan University Theatre Program produces at least three full-length plays annually for the University community in The Dunn Center. Students from all disciplines are encouraged to attend the open auditions each fall and spring. Students may also work to build sets, run lights and sound or assist with costumes and makeup. The University Theatre Program is a member of the Southeastern Theatre Conference and the North Carolina Theatre Conference. The theatre program also sponsors the drama club-Wesleyan Players-which is open to all interested students.
WESLEYAN PLAYERS is for students interested in theatre. Founded in 1962, when the group staged the first University drama production (Tartuffe), Wesleyan Players has a long tradition of commitment to preparation and performance of works to entertain and educate the University and community. It aims at spiritual and intellectual growth, while giving students extra-curricular opportunities to do plays, musical theatre, improv and presentations on and off campus. Wesleyan Players sponsors an annual ten-minute play festival and competition for students.
Student Newspaper - - The Decree
Students who want experience in writing, editing, layout, photography, cartooning or management are encouraged to become involved in the production of the student newspaper, The Decree. It is published in a print edition and online (ncwc.edu/publications/the-decree). In addition to reporting on campus events, The Decree regularly features creative writing - fiction, poetry, personal essays - by students and other members of the University community.
North Carolina Wesleyan University recognizes, affirms and upholds the rights and protections granted student journalists by the First Amendment of the Constitution of the United States of America.
Intercollegiate Athletics
Intercollegiate athletic programs are part of the educational mission of the University and therefore are designed to provide students with opportunities for intellectual, moral and physical development. By participating in intercollegiate athletics, students have additional opportunities to develop the self-confidence necessary for a successful and fulfilling life. Students who participate in athletic activities are expected to meet the academic and social standards of the University. The University's intercollegiate teams are members of the NCAA Division III and the USA South Athletic Conference. Men's teams include baseball, basketball, cross country, golf, tennis, football and soccer. Women's teams include basketball, cross country, lacrosse, soccer, softball, tennis and volleyball. Students participating in intercollegiate athletics are eligible for aid based on need and/or academic ability only. NCAA Division III institutions are not permitted to offer athletic scholarships.
Conduct Principles and Regulations
The University is committed to the principles and standards relating to learning, social decorum and cultural and spiritual enrichment as established by the North Carolina Conference of The United Methodist Church. The University reserves the right, privilege and responsibility for establishing and maintaining institutional ideals and regulations, particularly on campus property. These rules and regulations are in the best interest of students, faculty and personnel.
Each member of the Wesleyan community is responsible for having knowledge and understanding of campus policies and procedures. Policies and procedures are included in The Student Handbook, Residence Hall contracts and other documents distributed to students. By accepting admission to the University, students agree to abide by these policies and procedures. Students will be held responsible for and must adhere to the regulations of the University as well as to municipal, state and federal statutes. When individuals or organizations fail to meet these responsibilities, the University will address such behavior with educational sanctions. 
Each student is required, prior to beginning classes, to recite and to live up to the North Carolina Wesleyan University Honor Pledge. The Honor Pledge states "I pledge to conduct myself as an honorable member of this community. I will submit only academic work that is my own and will acknowledge the academic work of  others. I will respect all members of the communicty and comply with the University policies. As a member of this community, I pledge to uphold the core valuess of integrity and accountability in my actions and hold others accountable to these values." 
Drug Prevention Program
The Drug-Free Schools and  Communities Act of 1986 requires that institutions of higher education provide drug prevention programs that educate students and employees about the risks associated with drug use and alcohol abuse. Additionally, this legislation specified that college policies be designed to prohibit, at a minimum, the unlawful use or distribution of illicit drugs and alcohol by students and employees on its property or as part of any of its activities. Disciplinary sanctions for violation of these policies may lead to expulsion of students or termination of employees. Any student taking one or more classes for credit is responsible for abiding by the campus policies found in the University catalog and by the supplemental information distributed as part of this program.
Alcohol and Controlled Substances Policy
The University is especially concerned about the use of alcoholic beverages and other controlled substances and is aware of how dependence on alcohol and other drugs leads to behavior harmful to the use and to others as well.
Therefore, the University disapproves of the use of alcohol or other drugs.
The purchase, sale, distribution, display or consumption of alcoholic beverages by University students and personnel is prohibited on University premises or at University-sponsored activities. Public intoxication and all forms of parties serving alcoholic beverages are prohibited.
The Social Principles in the 1996 Book of Discipline of The United Methodist Church states:
"We affirm our long-standing support of abstinence from alcohol as a faithful witness to God's liberating and redeeming love for persons. We support abstinence from the use of any illegal drugs. Since the use of alcohol and  illegal drugs is a major factor in crime, diseases, death and family dysfunction, we support educational programs encouraging abstinence from such use."
Further, there are local, state and federal laws which prohibit use, sale, possession and trafficking in illegal drugs and dangerous weapons. North Carolina prohibits the sale or giving of alcoholic beverages to any person under 21 years of age. The University will not shield students from these laws. Therefore, it is imperative that students familiarize themselves with local, state and federal laws, some of which carry severe penalties.
Violation of this policy will result in disciplinary action as defined in The Student Handbook. The full range of sanctions is applicable.
Students are encouraged to seek medical attention for themselves or others when faced with emergency situations. The University has adopted a medical amnesty policy which states that intoxicated students seeking medical assistance for themselves or another intoxicated individual will not be charged with violations of the Code of Student Conduct. The full Medical Amnesty policy can be found in The Student Handbook.
Student and Employee Assistance
Any student experiencing drug or alcohol-related problems may contact the Health Center or Counseling and Accessibility Services for confidential assistance. Confidential consultation and referral services are available to University employees through the Employee Assistance Program.
Tobacco Free Campus
North Carolina Wesleyan University is committed to providing a safe, healthy and respectful environment and campus for all students, faculty, staff and visitors. The University has long prohibited smoking inside or near any building and effective July 15, 2015, North Carolina Wesleyan University is a tobacco-free campus. Beginning on that date, the use and possession of any tobacco, tobacco products as well as smoking substitutes such as electronic cigarettes and vapor products, will be prohibited on any property owned or operated by North Carolina Wesleyan University. Please see the University website for more information and details.
Student Conduct
Disciplinary regulations are set forth in The Student Handbook in order to convey a general sense of community standards and to  illustrate and give students general notice of prohibited conduct and the sanctions resulting from such. The regulations should be read broadly; they do not define misconduct in exhaustive terms or do they illustrate every possible situation in which conduct could be seen as a violation of regulations. The Code of Student Conduct and Standards process is outlined in detail in The Student Handbook. Responsibility for administering the Code of Student Conduct and Standards process falls within the Division of Student Affairs. Questions pertaining to student conduct or the judicial system should be directed to the Office of Student Affairs.
Violations of Civil Laws and University Regulations
Students may be accountable to both civil authorities and to the University for acts which are violations of civil and/or criminal law and of University regulations. The University will not substitute its penalties for those that should be imposed by the courts. City, county and state law enforcement agencies will hold students accountable for their actions as are all other citizens. However, penalties imposed by civil authorities and courts may not exempt students from Univeristy disciplinary action for the same offense. Students who have committed a felony or repeated misdemeanors will be subject to review by the University judicial process. Disciplinary action taken by the University is independent of any civil or criminal action and will not be subject to challenge or reduction on the grounds that the civil/criminal charges involving the same incident have not been filed, dismissed, reduced or is still in process.