---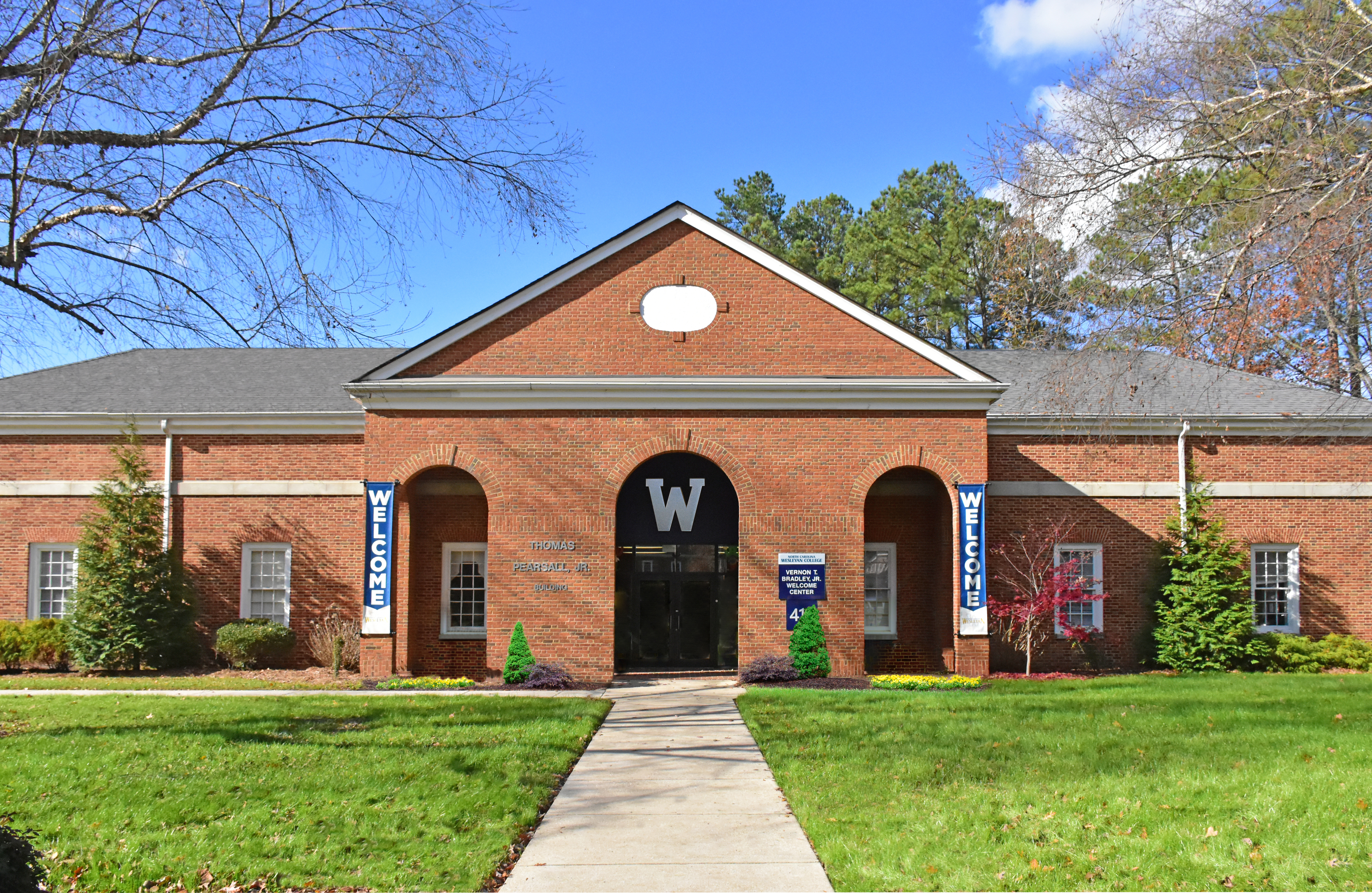 North Carolina Wesleyan University invites applications for admission from students whose personal and academic record reveals intellectual ability and educational achievement. Admission to Wesleyan is based on academic record, including courses taken, grades earned and class standing. Achievement in extracurricular activities, community participation and a motivation to get involved and contribute to the Wesleyan campus community are also taken into consideration. Self-discipline, seriousness of purpose and motivation are considered necessary attributes for success in the educational program at North Carolina Wesleyan University.
The University considers applications under the "rolling" admission system; therefore, applications are reviewed when all information has been received. Applicants will be informed of the admission's decision upon receipt of all required documentation. Admission is granted to qualified applicants without regard to race, religion, color, sex, age, marital status, sexual orientation, disability or national or ethnic origin. To promote the exchange of ideas and values, the University seeks a diverse student body, admitting students of different backgrounds, interests and talents. Information about admission as an adult student, see Adult & Professional Studies: How to Apply for Admission.
When to Apply
Degree seeking freshmen and transfer students are encouraged to submit an application as early as possible prior to the semester in which they plan to enroll. Early application is extremely important for those students seeking scholarship and/or financial assistance. A student must be accepted for admission to the University before an official financial aid package can be awarded. Any student wishing to move his/her application to another term, must reapply under that term if in a different academic year.
General Application Information and Requirements
Freshman Applicant
(includes Early College, Dual-Enrollment and students with college credit)
Graduation from a college preparatory program at an accredited secondary school is the best preparation for Wesleyan's liberal arts and sciences curriculum. For applicants who have pursued a non-traditional high school program, the General Equivalency Diploma (GED) is normally recognized. Home-schooled students must provide a transcript that has been evaluated by a third party and/or GED and SAT or ACT if applicable.
Students should have a background in a diverse selection of academic subjects. The applicant should have taken a minimum of four courses in English, three in mathematics, three in laboratory sciences, two in social studies.
Study in a foreign language and culture is encouraged.
NCWU is test blind, meaning test scores are nor required for admision. However, students who desire to take the SAT or ACT, should do so in the spring of their junior year or fall of their senior year. Students are requested to identify North Carolina Wesleyan University to receive a copy of the scores directly from the testing service. Wesleyan's SAT code is 5501; the ACT code is 3135.
Additional information that is helpful but not required during the application process includes extracurricular activities, letters of recommendation and an essay.
Transfer Applicant
North Carolina Wesleyan University's transfer policy is designed to award academic credit for previous college-level work that a student has completed at regional accreditors such as the Southern Association of Colleges and Schools (SACS). These institutions include four-year colleges and universities and two-year junior, technical and community colleges. Transfer students must present an official transcript from each college prior to acceptance to the University.
Credit for standardized examinations such as Advanced Placement (AP) examinations, College Level Examination Program (CLEP), Defense Activities for Non-Traditional Education Support (DSST) and the International Baccalaureate (IB) will be reviewed and considered for transfer credit, provided the scores on these examinations meet the standards set by the faculty at North Carolina Wesleyan University.
College level non-academic coursework and training outlined on an ACE transcript or from other professional organizations such as the American Heart Association, among others, will be reviewed for possible academic credit on a case-by-case basis approved by the Registrar's Office and the Office of the Provost.
Credit for military training is based upon recommendations by the Evaluation of Educational Experiences in the Armed Services. Credit for non-collegiate training programs and professional certification is based upon recommendations by the National Guide to Educational Credit for Training Programs. The American Council on Education (ACE) provides these publications and recommendations. Military documents, such as DD-214 and official copies of standardized examinations such as CLEP and DSST examination scores are not required for admission but are required if the applicant wants evaluation for possible transfer credit.
The maximum credit accepted from two-year institution transfers and/or CLEP general examinations is 75 semester hours. The maximum amount of credit that can be awarded towards a degree is 90 semester hours. Courses from two-year institutions transfer as 100-200 level courses only unless specified through a specific transfer agreement or Memorandum of Understanding between colleges. All students are required to meet the minimum residency requirements of the University.
The total of remaining credits required for a degree is determined by specific coursework transferred and the specific coursework and degree requirements required by North Carolina Wesleyan University. Although credit transferred from institutions that are accredited by regional accreditors, such as the Southern Association of Colleges and Schools (SACS-COC), may count towards graduation, only courses completed at North Carolina Wesleyan University will be used in the computation of the cumulative grade point average or in conferring graduation honors. Standardized examinations such as CLEP and DSST are not used in the computation of the cumulative grade point average or in conferring graduation honors.
As part of its service to prospective students, the University will provide transcript evaluations and degree plans upon request.
The faculty of the University determines policies governing transfer credit. The Registrar has responsibility for reviewing requests for transfer credit and applying the established policies. The Academic Policy Committee of the Faculty must approve any departure from or exceptions to, those policies before transfer credit is awarded.
Admission Standards
Applications for admission are considered for acceptance to the University when all required information is submitted. All students are admitted under conditional admission status. Conditions of admission are outlined in the acceptance letter and may include required enrollment in the Freshman Advantage Program. All will be subjected to a background check which may impact admission consideration.
Interested student applicants are encouraged to call the Office of Admissions for further information pertaining to standards for admission. An admissions counselor will be available to discuss individual admissions circumstances. Once transcripts are received they become the permanent property of NCWU and will not be returned to the student. North Carolina Wesleyan University requires all final official transcripts from any school or college attended. Any student that fails to submit official transcripts in the semester in which they are enrolled may have a hold placed on their account pending receipt of the transcript(s). Failure to submit transcripts may prevent the ability to register for future courses, receive an NCWU transcript and/or receive distribution of financial aid. Exceptions to this policy can be made by the Provost or President for good cause. A written exception will be provided to the student's admissions file.
Required Admission Forms and Information
New Freshmen Without College Transfer Credit
A completed application for freshman admission
An official high school transcript (a final high school transcript upon graduation is required for students currently enrolled in high school) or an official copy of GED results
New Freshmen with College Transfer Credit (Including Early College)
A completed application for freshman admission
An official, final high school transcript or GED
An official transcript from each post-secondary college or university attended
In good academic standing with all post-secondary institutions attended
Transfer Students with 12 or More Hours of College Credit
A completed application for transfer admission
An official transcript from each post-secondary institution attended
In good academic and social standing with all post-secondary institutions attended
International Student Admission
To be considered for admission to the University, each international applicant must submit the following:
International Student Application for Admission: Students are asked to provide complete information. Incomplete forms will result in delays in reviewing the application.
Academic Records: Complete, official academic records, English translation. Records should include courses taken, grades received and degrees and certificates earned. An explanation of the coding system used to evaluate the student's work should accompany the records. International students who have attended a college or university outside the United States must provide official translated transcripts. In order to verify the validity of academic transcripts and credentials earned outside the United States and to assign appropriate transfer credits consistently, all international transcripts must be submitted with a report from World Education Services (WES). Obtaining this report is the responsibility of the student for whom the record is requested, and the student assumes the cost of any WES evaluation. Transcripts and credentials submitted without a WES report cannot be evaluated by the Registrar or counted for transfer credit to North Carolina Wesleyan University.
Once transcripts are received they become the permanent property of NCWU and will not be returned to the student.
Test Scores: Students who have taken the SAT or ACT (unless waived or not required by Admissions), should submit their scores. Students whose native language is not English should submit Test of English as a Foreign Language TOEFL/IELTS/DUOLINGO scores or an approved English proficiency test.
Certificate of Financial Responsibility (CFR): All accepted applicants who have deposited $1,000 to the traditional day program must submit a CFR to the International Admissions Representative, giving evidence of their ability to cover all expenses for a full year of study. If privately sponsored, the student must document the first year's assured support on deposit in a bank and parent/sponsor certification of projected support thereafter for all four years of study. Until a complete CFR is received and approved, a Form I-20 for securing a visa cannot be issued. Applicants from some countries experiencing difficulties in the transfer of funds to the United States are required to deposit in advance the first year's projected expenses.
Visas: A Form I-20 for an F-1 visa will be issued only when all admission requirements have been met and a copy of a passport is sent to verify the student's name. International applicants attending college in the United States at the time of application must submit an appropriately completed Visa Clearance Form to the North Carolina Wesleyan University Office of Admissions. The international student advisor at the applicant's current school must complete this form.
Special Admission Information and Requirements
Visiting or Non-degree Students
Visiting or non-degree students are persons visiting from another degree-granting institution for purposes of taking a Wesleyan course for credit, fulfilling requirements at another institution, taking a course for teacher certification, for meeting CPA or graduate school prerequisites or for achieving personal learning goals. If at a later date the student wishes to pursue a degree offered by Wesleyan, the student must meet the criteria under the appropriate admission requirements category above. Admission requirements include:
Visiting Students
A completed application for admission
A letter of permission from the degree-granting institution
Non-degree Students
A completed application for admission.
An official transcript which verifies graduation from high school or an official copy of passing scores on the GED or official college transcript. College consortium students are exempt from this requirement.
Dual Enrolled Students
A completed application for admission.
A completed drop/add form sent to the Registrar's Office from the high school's guidance counselor.
Permission from the high school's administration.
Signed FERPA form, including but not limited to, high school guidance counselor.
Readmission
Students who previously attended Wesleyan and wish to return must apply for readmission under the most current catalog year. Traditional day students at the Rocky Mount campus who withdraw from the college (by completing a withdrawal form) during the fall or spring semesters or have not enrolled at NCWU for one semester or longer, must complete readmission procedures to register.
An Application for Readmission of former students can be completed on the Admissions tab of my.ncwc.edu. This application will be processed and evaluated by the Admissions Office, with the approval of other departments across campus. If the applicant has attended another post-secondary institution during the absence, an official transcript from each institution must be submitted.
Students who have been academically or socially suspended may be required to submit additional materials for review by the University before a decision is made concerning their readmission. Students approved for readmission into the university must successfully pass a criminal background check. Students who have been suspended and wish to be readmitted after serving their suspension should submit their readmission application for the semester they wish to return by the following deadlines: Fall Semester-August 1; Spring Semester-December 1; Summer Term-April 1.
Exceptions to this policy can be made by the Provost or President for good cause. A written exception will be provided to the student's admissions file.
High School Juniors and Seniors - College Credit
Highly-motivated high school juniors and seniors with good academic records who want to earn college credits while still in high school may apply to take courses at the university. Application for admission requires the submission of an official copy of the high school transcript and a letter of recommendation from the principal, guidance counselor or a teacher. Successful completion of a course or courses will earn regular college credits, applicable to a degree program at North Carolina Wesleyan University or for transfer to another institution.
Course Audit
An admitted student may audit a course with the permission of the instructor. Students who wish to audit a course must contact the Registrar. Audited courses do not receive academic credit, but do appear on the transcript. Students may not audit a course and later take the same course for academic credit at North Carolina Wesleyan University.
Immunization Requirements
North Carolina requires all students enrolling in the traditional day program on the Rocky Mount campus to provide a record of immunizations prior to enrolling. The record must document three childhood DPT (diphtheria, pertussis and tetanus) shots, one tetanus booster given within the last ten years, two MMR (measles, mumps, rubella) and three polio vaccines. In addition, North Carolina Wesleyan University requires that all students submit a physical examination form with a TB skin test that has been completed within one year prior to admission and signed by a physician. All students must provide completed medical records requirements to the Wellness Center in the Spruill Building. If required documentation is not provided within 30 days from the start of classes, the student will be removed from campus and will no longer be allowed to attend classes.
Student Responsibility and Exceptions
The student is responsible for providing accurate and current information. The application should be updated if circumstances change. If falsification, misrepresentation or omission occurs, acceptance may be revoked. Student application for admission files are held a maximum of 24 months, then cancelled if the student does not enroll. Only the Vice President of Enrollment, the Provost or their designee can grant exceptions to admission policies.
Campus Visits
Interested students and their families are encouraged to visit the campus to become familiar with the University and its academic programs. Visitors to the Rocky Mount campus will receive a tour conducted by a student ambassador/ counselor and will meet with a member of the admissions staff. Appointments with faculty, athletic team coaches and financial aid staff can also be arranged with proper notice.
The Office of Admissions is located in the Welcome Building and is open on weekdays from 8:00 a.m. to 5:00 p.m. and on Saturday, by appointment, from 9:00 a.m. to noon.
For further information, contact:
OFFICE OF ADMISSIONS
NORTH CAROLINA WESLEYAN UNIVERSITY WELCOME BUILDING
3400 N. WESLEYAN BLVD. • ROCKY MOUNT, NC 27804
252.985.5200 • 1.800.488.6292
admissions@ncwc.edu • ncwc.edu/admissions